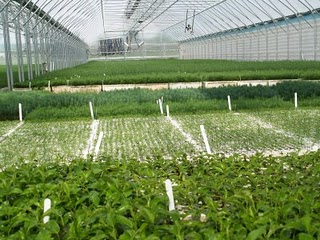 by Margaret A. Haapoja

A sea of green—thousands of tiny tree seedlings--stretches out in front of us as we walk with Bill Sayward through one of his greenhouses. Soft tamarack needles recently pruned beg to be touched, and the sharp scent of balsam poplar perfumes the air.
Bill and Cathy Sayward took over ownership of Itasca Greenhouse, located next to the Minnesota Power Clay Boswell plant in Cohasset, in 1988. Today they are one of the state's largest producers of containerized tree seedlings with a capacity of 6 million a year. Moving to Minnesota from Maine where he worked as a research forester for Georgia Pacific, Bill has degrees in forestry, silviculture and forest genetics, but he says sometimes the school of hard knocks is the best teacher.
With today's emphasis on climate change and environmentalism, more and more people are planting trees, a renewable resource that supplies food and fuel, wildlife habitat and windbreaks and adds beauty to the landscape. Reports indicate at least 2 billion trees have been planted worldwide since 2006, and some of those trees come from an eco-friendly nursery right here in Itasca County.
Itasca Greenhouse is unique," says Bill. "It has a co-generated heat source. We're using the wastewater heat from Minnesota Power's Clay Boswell generating plant. We get the heat from the top of the cooling tower and return to the bottom of the cooling tower so we do not use much fossil energy of our own to produce tree seedlings." The company purchases power based on one acre under glass, and a backup system of propane furnaces kicks in automatically if needed. "I tell people greenhouses are like spaceships," says Bill. "You have to have redundancy."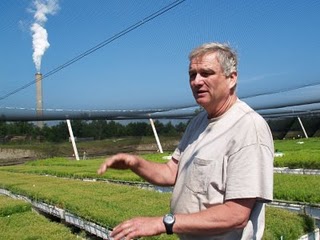 After 26 years in the tree trade, Bill has an encyclopedic knowledge of their culture. Itasca Greenhouse grows two crops of 50-60 different species each year in two greenhouses. The newest is a state-of-the-art structure manufactured in Castle Rock, Minnesota by POLY-TEX. A computerized climate control system opens roof vents and side vents to cool the greenhouse in summer and turn on several levels of heating in the winter to keep the proper growing temperatures. It turns on lights at night and during the winter to supplement the greenhouse air with carbon dioxide to help the trees grow. The shape of the roof allows more light to transmit than the older greenhouse, and it has the capacity to grow 1.6 million seedlings. "We use a beam flicker lighting system to supply intermittent lighting at night to keep the trees from going dormant," says Bill, "and a computer turns the lights on based on radiation measured by a photo cell."

Two wells supply water, and Bill explains that the nursery doesn't use nearly as much as people would think. "A center pivot, used for agricultural irrigation on large farms, uses as much in a day as I use in a year," he says. A tempering tank raises the temperature of the well water from 39-40º to 50º. Fertilizer is injected into the sprinkling lines feeding and controlling the tree seedling growth. Bill formulates his own fertilizer, tailoring it to the growing cycle and each species' needs. River water is not used because it often contains seeds, algae and may contain unwanted chemicals. Correct pH is critical for good tree growth, and Bill tries to maintain a pH of between 6.6 and 6.8 although his well water's pH varies from 8.15 to 8.3.
A high precision seeder can plant seed as fine as aspen seed which is 3 to 6 million seeds per pound--or like seeding dust. The containerized seedlings are grown almost exclusively in styroblocks that are washed and sterilized between crops and reused 3-5 times. Because the seedlings remain protected in a soil plug, they offer flexibility for the landowner to plant over a longer season from spring frost out until early fall. Survival rates are high because the seedlings handle rough sites, poor planting techniques and dry weather conditions better.

"Survival averages 90% or more as compared with bare root seedlings which is often in the 70's or 60's or even lower," Bill says. "By using a containerized seedling system to grow seed from rare trees, we can get the maximum number of seedlings out of a certain number of seeds as compared to bare root where we lose seed to the birds, to the bugs and animals and also to thinning and natural causes."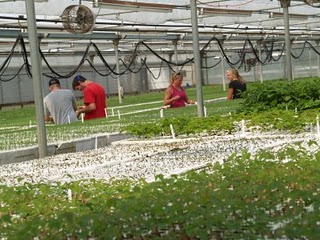 The company grows everything from Afghan pine and Korean fir to Scots pine from Russia and Meyer's spruce from China, but Bill says their most popular species are native trees—red pine, white spruce and jack pine. The nursery also custom grows trees from the customer's own seed so they can have the exact genetics for their particular use whether it be for Christmas trees, for forestry or ornamentals. Among the new species this year are Balm 'o Gilead (balsam poplar,) grown from cuttings for mineland reclamation, and bald cypress and Himalayan cedar, grown specifically for customers in the South.

"There's a trick to this, all right," says Bill. "People don't understand all the species are not the same in how you germinate the seed." Red cedar is the most difficult to break dormancy. He finally achieved 96% germination one year by stratifying the seed with citric acid, but when he used the same technique the next year, germination was very poor. Black walnut is difficult to germinate because the seeds are so hard, but it grows very fast once the nuts break dormancy. Easiest trees to grow, according to Bill, are white spruce and the faster growing Norway spruce native to Europe.

Itasca Greenhouse currently employs thirteen people full-time plus temporary workers from Personal Dynamics and ODC. The current slow economy has affected the business, and Bill says several customers cancelled orders this spring so some of his seedlings ended up in the compost pile. Normally he sells out many species so customers are encouraged to order early to be sure of receiving the trees they want.

In 1998, the Saywards purchased the assets of The GreenWorld Project, and the satellite company has grown into a nationally recognized leader in specially packaged tree seedlings for special events or promotions.

Blandin Paper Company, the DNR and Itasca County are among Itasca Greenhouse's largest customers, but the company also sells to individuals who buy trees for the landscape or for their tree farms. "I tell people the minimum order is one tree," says Bill. "I have a hard time growing less than that."